Johnson & Bell received the highest state level award from the Illinois Committee of the Employer Support for the Guard and Reserve ("ESGR") for its support for members of the United States military services.
Presenting the award to firm founder William V. Johnson and firm vice-president Joseph R. Marconi were US Navy Captain Mark T. Hunzeker, the chief of the Navy's Midwest Region Legal Services Office, Great Lakes Naval Station; Renato Bacci, the incoming chairman of the Illinois ESGR Committee; and William C. Glynn, the Northern Illinois chair of ESGR.
Johnson & Bell was selected to receive the award at the recommendation of Frank M. Grenard, one of the firm attorneys.  Grenard is an ombudsman and military outreach volunteer with the Illinois ESGR Committee. He is also the Chairman of the Illinois State Bar Association's Military Affairs Committee.
Citing the firm's demonstrated commitment to supporting Grenard's participation in ESGR programs and projects over the past several years, including allowing him to devote hundreds of volunteer hours to ESGR activities and service members, ESGR recognized the extraordinary support shown by Johnson & Bell to service members not only in Illinois but throughout the nation.
ESGR is a Department of Defense office.  It was established in 1972 to promote cooperation and understanding between Reserve Component Service members and their civilian employers and to assist in the resolution of conflicts arising from an employee's military commitment.
The Seven Seals Award is the award given by ESGR to persons or organizations that significantly advance the ESGR mission.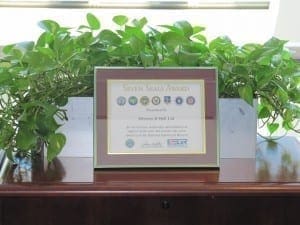 From left, Captain Mark Hunzeker, USN (Legal Service Office, Great Lakes); Joseph R. Marconi (Chair, Business Litigation Group, Johnson & Bell), Renato "Ron" Bacci (Illinois Committee for ESGR); William V. Johnson (Founding Partner, Johnson & Bell), Frank M. Grenard (ESGR Volunteer and Chair, Commercial Transactions Group, Johnson & Bell) at presentation of Seven Seals Award on Monday, June 3, 2013.